Here we go again peeps! Another weird but true story. I swear, I can't make this up. I'm not that creative. So, here's my take on it.
Man Shoots Fireworks Out Of His Buttocks,
This does not sound like a wise choice.
Goes To Australia Hospital
(See, I knew this was not going to "END" well.)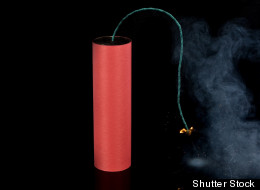 The
New Zealand Herald
reports that paramedics near Darwin, Australia were called to the scene on Saturday night, but the unidentified man had already taken himself to the hospital to be treated for injuries to his
posterior and genital area.
"What must of (sic) seemed to be a great idea at the time has backfired,
AM I THE ONLY ONE APPRECIATING THE PUNS HERE?
resulting in the male receiving quite severe and very painful burns to his cheeks, back and private bits,"
I LOVE THAT THEY ARE CALLING HIS MANHOOD "BITS."
Senior Sergeant Garry Smith said. Police believe alcohol could have been a factor in the firecracker-fueled accident.
IF ETOH WAS NOT INVOLVED, I WANT TO KNOW WHAT DRUGS HIS MONTHER DID WHILE HE WAS STILL INUTERO, AND I WILL CLEARLY MARK THOSE OFF THE DO TO LIST.
The 23-year-old man was later taken to a specialist burns unit at the Royal Adelaide Hospital.
Smith added that there's a lesson to be gleaned from
the man's injuries.
FANTASTIC! THIS IS LIKE ONE OF THOSE BACK TO SCHOOL SPECIALS WHERE SOMEONE DOES SOMETHING STUPID, AND WE ALL LEARN A LESSON AND EVERYTHING TURNS OUT OKAY, IN THE "END." SORRY. HAD TO. MY FUNNY HAS TEMPORARILY LEFT ME.
"Apparently [the firecrackers] are not designed for that particular placement," Smith said, according to The Daily Mail.
DUALLY NOTED. THANK YOU SR. SGT. SMITH FOR THAT INSIGHT.
The man could also face fines because fireworks are illegal in the area,
AND BY "IN THE AREA," ARE WE REFERRING TO THE GEOGRAPHY OR THE BITS LOCALE?
except on July 1, which is Territory Day.
AND BY "TERRITORY" DAY, ARE WE REFERRING TO THE BITS AREA OR THE GEOGRAPHY?
The story comes just a few weeks after a Michigan man
blew off part of his genitals with fireworks.
MIGHT WE ASSUME THAT SINCE THERE WAS NO MENTION OF IT, THAT MAN BITS ARE LEGAL TO BLOW OFF IN THIS "AREA?" AND IF SO, I SUPPOSE IT MAKES SENSE. IT'S A FANTASTIC NEW FORM OF BIRTH CONTROL. IT IS SORTA' LIKE ALLOWING THE SIMPLE MINDED TO REMOVE ALL THE WARNING TAGS AND LETTING THE NATURAL LAW OF SELECTION DO IT'S MAGIC. GO AHEAD MICHIGAN MEN... BLOW YOUR SELVES! WAIT, THAT'S NOT RIGHT.